Proxl Global is one of the best Water Meter Box Manufacturer in Bathinda. A water meter is a perfect shield that helps to protect your water meter. And it is used high-grade raw materials such as HDPE, Polypropylene, and Polyethylene, etc. Which materials are used in manufacturing are industries. These Water Meter Box are flexible and lightweight and easy to carry anywhere. And it is solid and has good chemical resistance which all material is used in a variety of applications and also absorbing moisture.
And we are Manufacturer in Water Meter Box and also supply in different areas in Bathinda. Our experienced and skilled engineers design and produce the highest quality and we offer the reliability and durability of our products to our valuable clients at pan world. we believe in delivering on time and ship your products as soon as possible and provide safe packing to the products
Basically, two sizes of  Water meter Box; we are providing such as rectangular water meter box and circular Water Meter Box that help to protect your water meter from cold temperature and break down for any weight material, like stones, etc and this designed to larger size due to fit easily anywhere to protect your Water meter. And also it comes with different colors like black water meter box and blue water meter box that are looking to good, attractive and affordable.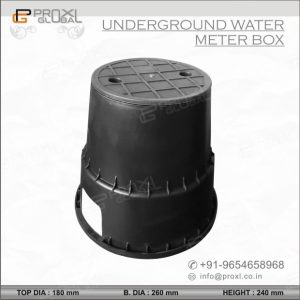 The underground water meter box is used for residential and commercial purposes to provide protection water meters. Our products are environment-friendly and rustproof. so it helps to protect your environment and other heavy material. In addition, the quality of the water meter protection box prevents damage from the sunray.
The standard size of Water meter box covers is 5/6 x 1/2" and 3/4". That is also the best option to customize the products according to the client's requirements. We understand the client's requirements and their needs, so we offer all of our products at a very reasonable price.